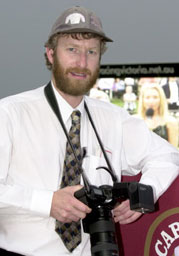 I am a professional photogapher and until recently worked in The Department of Genetics at The University of Melbourne for 25 years. This involved photographing a variety of subjects from plants to insects, from fish to fungus, as well as the other staff and students. I was also responsible for the microscopy facilities and computers.
However, my favourite photographic subjects are horses and I have been photographing the races in Melbourne since 1987 concentrating on the Spring and Autumn Carnivals. I grew up in a family very interested in horses and horse racing in particular.
It seemed a natural merger to combine my interests in photography and horse racing back in 1987. I seemed to have started just at the right time with many popular and quality gallopers going around in the late 80's and early 90's.
I have built up quite a substantial library of images of not only the very best gallopers but of many other Melbourne winners as well. I am available at any time of the year for commissioned work.