SUPER ELEGANT MAKES IT TWO IN A ROW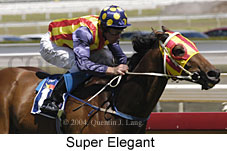 It was a beautiful sunny day at Caulfield for the running of the Group 3 Rubiton Stakes, the first Group race in Melbourne for 2004. Well ridden by Patrick Payne, Super Elegant made it two in a row streeting his rivals, the result never in doubt.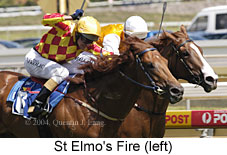 The three-year-olds provided us with the race of the day in the New Gleam Super Vobis Handicap as the smart colt St Elmo's Fire was made to fight for his win by the gutsy filly Carlton Spirit. Brian Mayfield-Smith was pleased with his charge noting that the race will have taught the flashy chestnut a great deal about racing having not learnt much from his previous soft wins against weaker company.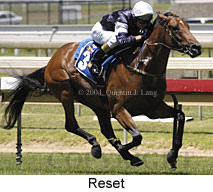 Earlier in the day the exceptionally well bred colt Reset (Zabeel - Assertive Lass) was an easy winner of the Moonga Super Vobis Handicap and looks to have a bright future.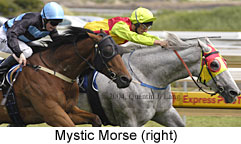 Zazzman, the "iron horse" of the Spring, was back to contest the Bramerton Handicap but was never happy in running pulling and reefing his head about refusing to settle. He failed to make any impression in the straight which left Mystic Morse and Fonome to fight out the finish with the former prevailing.